Dayton Hamvention
This was the second year for the Dayton Hamvention in Xenia, OH. It did rain, as in the previous year. This brought forth mud, but no as much as in thee previous year. The organizers addressed many of the issue last year  with the traffic and mud in the Flea Market area. The was well represented with many members stopping by the club table.
Parks on the Air (POTA)
One of the most enthusiastic groups in Dayton were the POTA hams. They exchanged may interesting stories and went away with even more energy to activate parks. As part of this, N8SL activated Island Lake Rec Area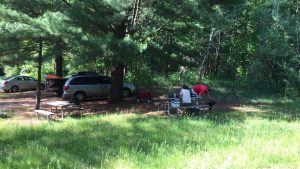 And now, for the Main Event
It has turned to June. Our main event is upon us. As in previous years, it will be held at ames F. Atchison Memorial Park, which is located behind the Lyon Township Municipal Center, at 58000 Grand River Avenue in New Hudson. As in previous years, we will begin set-up on Friday, June 22, run from 14:00 EDT Saturday, June 23 to Sunday, June 24, 14:00 EDT, and tear-down immediately following event. For some of the potential changes this year, please come to our next meeting.
Meeting Announcement
When: Sunday, June 10th, beginning at 6:30 EDT
Where: Witch's Hat Depot – Freight House
Agenda
Round of Introductions
Verify Order of Agenda
Show & Tell
Presentation
Field Day 2018
Starts approximately at 7:00 PM
Eric K8ERS will be the event committee's plans for Field Day 2018
What is staying the same
What will change
How we can help
Business Meeting Call to order
Attendance
Pass around the attendance sheet.
Standard Items
Vote to accept Secretary's report from last meeting
SLAARC_May_2018_Meeting_Minutes
Treasurer's report
President's Report
Vice-President's Report
Committee Reports
Event/Field Day
Web Committee
Old Business
Dayton
New Business
Meeting Adjournment