Winter is Holding On
Since the groundhog saw his shadow, we are going to have six more weeks of Winter. However, we have some things on our side. The days are getting longer, 80 and 160 meters are still good, and we had a very successful Winter Field Day.
Winter Field Day
Winter Field Day weekend turned out to be a very moderate winter weekend. The sun was shining, there was no snow on the ground, and the temperatures were very reasonable. We made over 600 contacts and even had a satellite contact!
Some other highlights:
We used the trailer for two of the three radios.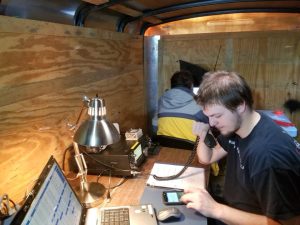 We had a visit from a local boy scout troop.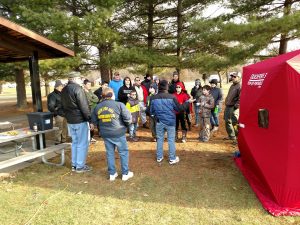 And we ran into the night on Saturday, stopping around 9 PM, and continued on Sunday morning.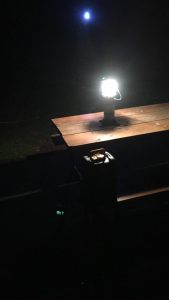 Meeting Announcement
When: Sunday, February 11, beginning at 6:30
Agenda
Round of Introductions
Verify Order of Agenda
Show & Tell
Presentation
Allstar Node Demonstration and Discussion
Starts approximately at 6:45 PM
Chris N8CAL will discuss his Allstar node including how he uses it, what the basic construction he used is and what a ham should do if they want to build one. Others are also welcome to bring theirs and have a club discussion.
Business Meeting Call to order
Attendance
Pass around the attendance sheet.
Standard Items
Vote to accept Secretary's report from last meeting
Treasurer's report
President's Report
Vice-President's Report
Committee Reports
Proposed changes to Business Meeting Update
Web site
Event/Field Day
Old Business
Survey new hams about interests
New Business
Meeting Adjournment