Hard to believe it's already November.  We have the dark-cold nights with snow soon to follow. Perfect antenna weather!
It seems like just yesterday we were at the K8MIS special event station. Now we are preparing for Thanksgiving coming up around the corner.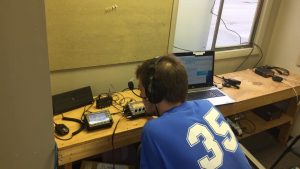 Several Ideas were discussed at the GL HamCon about potential improvements for clubs. We are already doing many, however, two of the areas mentioned were to focus whole-club meetings on interesting subjects, not business, and improving the communication to the membership with publication of annual club schedules.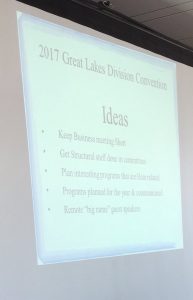 At the next meeting, we will present a draft list of topics, presentations and activities for 2018.
For example, the events committee has discussed the following draft Radio Activities:
| | |
| --- | --- |
| Activity Start Date | Radio Activities (Events Committee) |
| 1/27/18 | Winter Field Day |
| 4/21/18 | Michigan QSO Party |
| 6/23/18 | Field Day |
| 10/6/18 | K8MIS |
| TBD | Park Activation |
Calling all Presenters
Have something to present to the club in 2018?  We have openings during our 2018 meetings for presentations or programs. It does not need to be a written presentation, it can be a show-and-tell, general discussion, or a group activity.
| | | | |
| --- | --- | --- | --- |
| Meeting Date | Presentation | Presenter | Presenter Call |
| 1/14/18 | FT8 | Larry Gauthier | K8UT |
| 2/11/18 | Allstar Node Construction | TBD | |
| 3/11/18 | Grounding and Bonding | Frank Maynard | NF8M |
| 4/8/18 | Satellite Communications | TBD | |
| 5/6/18 | Flex Radio | TBD | |
| 6/10/18 | Field Day Prep | Event Committee | |
| 7/8/18 | Field Day Results | Event Committee | |
| 8/12/18 | Antenna Analyzer | TBD | |
| 9/9/18 | Great Lakes HamCon Prep | Event Committee | |
| 10/7/18 | School Radio Clubs | TBD | |
| 11/11/18 | CW | TBD | |
| 12/9/18 | Christmas Dinner | Club | |
Please contact would like to present one of the open topics, or if you have another topic you would like to present, or other activities for consideration:
General Club Functions
LARK Breakfast Socialization
Chili Cookout – WFD
Build an Allstar Node
Build an Antenna Analyzer
New Ham Day
Build bitx
Build band-pass filter
CW Practice
Build J-poles
Saturday Morning Breakfasts
Meeting Announcement
Agenda Highlights
Come to the meeting to:
Participate in our business meeting
Vote
Pay Dues
Bring your Show and Tell item. (Optional)
Presentation
Tips and tricks on using the N8BHT repeater and the Allstar Node
Meeting Date:  Nov 12, 2017
Meeting Time:  18:30-Social, 19:00-Meeting Start
 Presentation and Business Meeting 
John NU8M SLAARC President
Attachments
73…de NU8M