Dear SLAARC member:
I cannot believe it is already June.
During our May meeting, we discussed the Great Lakes HamCon, the up-coming siren tests for Oakland county, and some short discussions about Field Day.
The meeting presentation, Bob WD8AQX gave a great overview of solar power and it's potential.  It was especially interesting to learn about the way Bob had incorporated Solar into his shack.
We had another very good turnout at our May VE exam session, a family of hams were included, with two of them obtaining the Amateur Extra!   I hope to see some of the new hams at breakfast or our next meeting.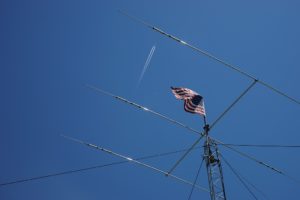 Meeting Announcement
Agenda Highlights
Come to the meeting to:
Discuss potential club activities through the year
Bring your Show and Tell item. (Optional)
All this fun at one meeting. But wait, that's not all.
Presentation
Field Day with potential future events from the FD Committee
Meeting Date:  June 11, 2017
Meeting Time:  18:30-Social, 19:00-Meeting Start
New banner from Chris KE8FDB
SLAARC Meeting Agenda Jun-2017