Dear SLAARC member:
Hello April showers.
During our March meeting, we voted to join the Great Lakes Amateur Radio Association to support the Great Lakes HamCon this fall at MIS.  They are calling for volunteers to support the preparation for this event.  Please find more information on our website here.

The presentation during the March Meeting was "Public Service – The face of amateur radio in our communities" given by Jim Kvochick K8JK, President of the Livingston Amateur Radio Klub  (LARK).  He gave an impressive list of activities his club in involved with, along with a great message on how Ham Radio provides a community service unlike any other group.  The best part is that any ham is able to contribute!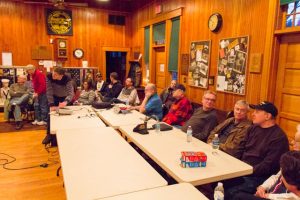 We had another very good turnout at our March VE exam session.  The candidates were well prepared and either received their fist license, or upgraded.
In local ham community events, the IEEE Southeastern Michigan will have a presentation the ARRL Laboratory Manager Ed Hare, W1RFI, has promised to give us the real "inside" information about what goes on in the ARRL Lab.  More information may be found on our website here.
For Dayton, the ARROW Bus to Hamvention is filling up fast! As of Tuesday (4-4), they "have 22 (twenty-two) seats left, so, please, sign up as soon as possible! The date is Saturday, May 20, 2017.
As of this year, there is a new location for the world's largest Ham Radio Convention this year. This is at the Greene County Fairgrounds and Expo Center in Xenia, Ohio. The rumors have it that there will be up to 30,000 attendees this year!
Remember, we leave the Ann Arbor Transit Park-and-Ride near Pioneer High School a half-hour earlier this year due to the extra distance to Xenia.
Please Note: The departure time is 4:00 am this year because Xenia is one-half hour farther."
Meeting Announcement
Agenda Highlights
Come to the meeting to:
Discuss potential club activities through the year
Bring your Show and Tell item. (Optional)
All this fun at one meeting. But wait, that's not all.
Presentation
Mike W8MSC and Eric K8ERS will present "N8SL Winter Field Day (WFD) Recap".  They will discuss what WFD is, why N8SL did participate, and how it was to operate at Island Lake Rec. Area.  We will also cover how it differs from Summer FD and discuss some options for future events of this nature.
Meeting Date:  April 9th, 2017
Meeting Time:  18:30-Social, 19:00-Meeting Start
73's…de NU8M