The Event
Field Day is a nationwide ARRL event designed to showcase amateur radio to the general public and local government officials. It occurs each year on the 4th weekend in June, with on-the-air operation commencing at 2:00 PM EDT and ending exactly 24 hours later. Participants range for individuals through small teams of 2 or more hams, to large, highly organized club events. Although planning may occur throughout the year, participants are not allowed to set up equipment in the field more than 24 hours in advance.
Field Day provides an annual opportunity for the amateur radio community to put a significant radio communications resource in the field in a short amount of time and keep it actively on-the-air for 24 hours of continuous operation. Field Day demonstrates the ability of amateur radio to provide essential communications throughout North America such as might be needed in the case of natural or other disasters that render the normal communications and electrical power infrastructures inoperable. Many Field Day participants operate their equipment on emergency power sources, such as portable generators or batteries and solar panels.
Since a real disaster is usually not underway during Field Day but the emphasis is on maximizing "contacts" with other hams the event is run like a "contest" in which operators and clubs earn scores based on the number and type of contacts they make. Field Day is also a major public relations event for amateur radio and many clubs set up their field operations in public view or in publicly accessible locations. The event is also used to build or strengthen bridges with local government officials and Emergency Management operations personnel, who are invited to attend the field operations of local clubs. Finally, for many clubs Field Day is a major social event of the year, providing an opportunity to "get out there and do ham radio" with their friends.
SLAARC Participation
SLAARC has participated in Field Day for many years and plans to continue doing so for the foreseeable future.  It is the single largest activity that the club undertakes during the year.  
Location
Most recently, we have set-up at Brighton Rec Area at a large Rustic Cabin. This allows us to reduce efforts to setup shelters and provides a decent area to set-up several antennas.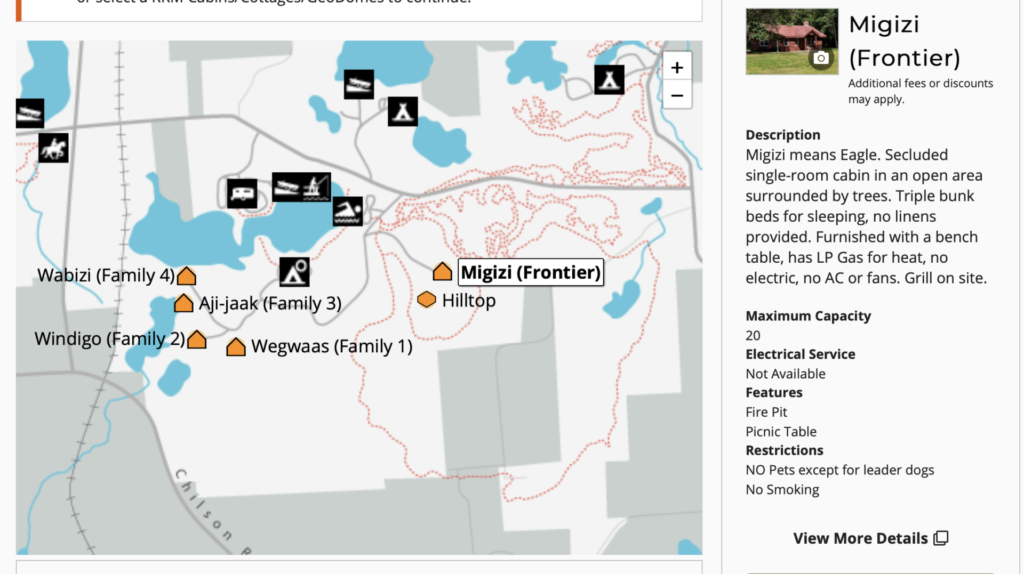 In past years the club has obtained permission to set up equipment and operate from the James F. Atchison Memorial Park located behind the Lyon Township Municipal Center at 58000 Grand River Avenue in New Hudson.  The park was created on top of a land fill and provides an excellent elevated location for ham radio operations.  If SLAARC was called up to set up and operate in a real emergency, the park would be our first choice location.
SLAARC Operations
SLAARC normally operates three to four stations. This is dependent on level of participation anticipated during planning.  We have all transceivers in simultaneous operation running on emergency power (not connected to any utility grid).  The club erects temporary towers and uses rotatable beam antennas, vertical antennas, and wire antennas to operate on the HF bands from 80 meters up to 10 meters.  We also operate a "free" VHF station on the 6 meter band (50 MHz) and above, and support for GOTA (Get On The Air) activities.  This allows newly licensed hams and un-licensed visitors/guests (operating under the control of a licensed ham) to experience what it is like to operate a ham radio and make contact with other hams.
Social Media
We will post social media content in the days leading up to the event. Keep an eye out for our notices.
Results
| | | | | | | | | |
| --- | --- | --- | --- | --- | --- | --- | --- | --- |
| Year | CALL | FINAL SCORE | CLASS | TOTAL QSOS | Power Multiplier | GOTA CALL | Number of Participants | CLUB NAME |
| 1973 | – | | | | | | | |
| 1974 | – | | | | | | | |
| 1975 | WB8QXB | 2415 | 2A | 883 | B | | 7 | S Lyon Area ARC |
| 1976 | WB8QXB | 4170 | 2A | 1327 | B | | 9 | South Lyon Area ARC |
| 1977 | WB8QXB | 3734 | 2A | 1152 | B | | 9 | South Lyon Area ARC |
| 1978 | – | | | | | | | |
| 1979 | WB8QXB | 3458 | 2A | 1062 | B | | 16 | South Lyon Area ARC |
| 1980 | N8AR | 3166 | 2A | 965 | B | | 16 | South Lyon Area ARC |
| 1981 | N8AR | 4330 | 2A | 1354 | B | N8CPO | 16 | South Lyon Area ARC |
| 1982 | N8AR | 3872 | 2A | 1166 | B | KA8DCX | 17 | South Lyon Area ARC |
| 1983 | N8AR | 4926 | 2A | 1512 | B | KA8SPZ | 50 | South Lyon Area ARC |
| 1984 | N8AR | 4128 | 2A | 1318 | B | KA8SPZ | 15 | South Lyon Area ARC |
| 1985 | N8AR | 3754 | 2A | 1214 | B | | 15 | South Lyon Area ARC |
| 1986 | N8AR | 4040 | 2A | 1382 | B | | 6 | South Lyon Area ARC |
| 1987 | N8AR | 4040 | 2A | 1440 | 2 | | 6 | South Lyon Area ARC |
| 1988 | N8AR | 2378 | 1A | 837 | 2 | | 6 | South Lyon ARC |
| 1989 | N8AR | 1166 | 1A | 390 | 2 | | 5 | South Lyon Area ARC |
| 1990 | N8AR | 898 | 1A | 288 | 2 | | 7 | S Lyon Area ARC |
| 1991 | N8AR | 1462 | 1A | 507 | 2 | | 7 | S Lyon Area ARC |
| 1992 | – | | | | | | | |
| 1993 | N8AR | 1220 | 2A | 358 | 2 | | 10 | South Lyon Area ARC |
| 1994 | N8AR | 1258 | 1A | 415 | 2 | | 10 | South Lyon Area ARC |
| 1995 | N8AR | 960 | 1A | 323 | 2 | | 10 | South Lyon Area ARC |
| 1996 | – | | | | | | | |
| 1997 | N8AR | 1488 | 1A | 398 | 2 | | 9 | South Lyon Area ARC |
| 1998 | K8BX | 1626 | 1A | 379 | 2 | | 11 | South Lyon Area ARC |
| 1999 | K8BX | 2324 | 1A | 601 | 2 | | 12 | South Lyon Area ARC |
| 2000 | N8SL | 2248 | 2A | 593 | 2 | | 10 | South Lyon Area ARC |
| 2001 | N8SL | 3532 | 2A | 771 | 2 | | 11 | South Lyon Area ARC |
| 2002 | N8SL | 4214 | 2A | 1038 | x2 | | 12 | South Lyon Area ARC |
| 2003 | N8SL | 2864 | 2A | 561 | 2 | | 11 | South Lyon ARC |
| 2004 | N8SL | 2480 | 2A | 686 | 2 | | 20 | South Lyon Area RC |
| 2005 | N8SL | 2924 | 2A | 661 | 2 | | 14 | South Lyon Area ARC |
| 2006 | N8SL | 3188 | 3A | 835 | 2 | | 11 | South Lyon Area ARC |
| 2007 | N8SL | 3460 | 3A | 899 | 2 | | 15 | South Lyon Area ARC |
| 2008 | N8SL | 2496 | 2A | 665 | 2 | | 16 | South Lyon Area ARC |
| 2009 | N8SL | 4806 | 2A | 1249 | 2 | KD8BLR | 22 | South Lyon Area ARC |
| 2010 | N8SL | 7702 | 3A | 2259 | 2 | N8AR | 27 | South Lyon Area ARC |
| 2011 | N8SL | 9276 | 3A | 2869 | 2 | K8BRF | 27 | South Lyon Area ARC |
| 2012 | N8SL | 9990 | 3A | 2900 | 2 | K8BRF | 26 | South Lyon Area ARC |
| 2013 | N8SL | 7572 | 3A | 2106 | 2 | N8AR | 24 | South Lyon Area ARC |
| 2014 | N8SL | 3900 | 2A | 1132 | 2 | N8AR | 30 | South Lyon Area ARC |
| 2015 | N8SL | 4008 | 2A | 1261 | 2 | KD8OSM | 50 | South Lyon Area ARC |
| 2016 | N8SL | 3482 | 2A | 1038 | 2 | N8AR | 26 | South Lyon Area ARC |
| 2017 | N8SL | 5826 | 3A | 1825 | 2 | K8ERS | 30 | South Lyon Area ARC |
| 2018 | N8SL | 5556 | 4A | 1632 | 2 | N8CAL | 62 | South Lyon Area ARC |
| 2019 | – | – | – | – | – | – | – | South Lyon Area ARC |
| 2020 | N8SL | 2136 | 4A | 522 | 2 | None | 5 | South Lyon Area ARC |
| 2021 | N8SL | 4572 | 4A | 1177 | 2 | None | 12 | South Lyon Area ARC |
| 2022 | N8SL | 3672 | 3A | 807 | 2 | None | 25 | South Lyon Area ARC |